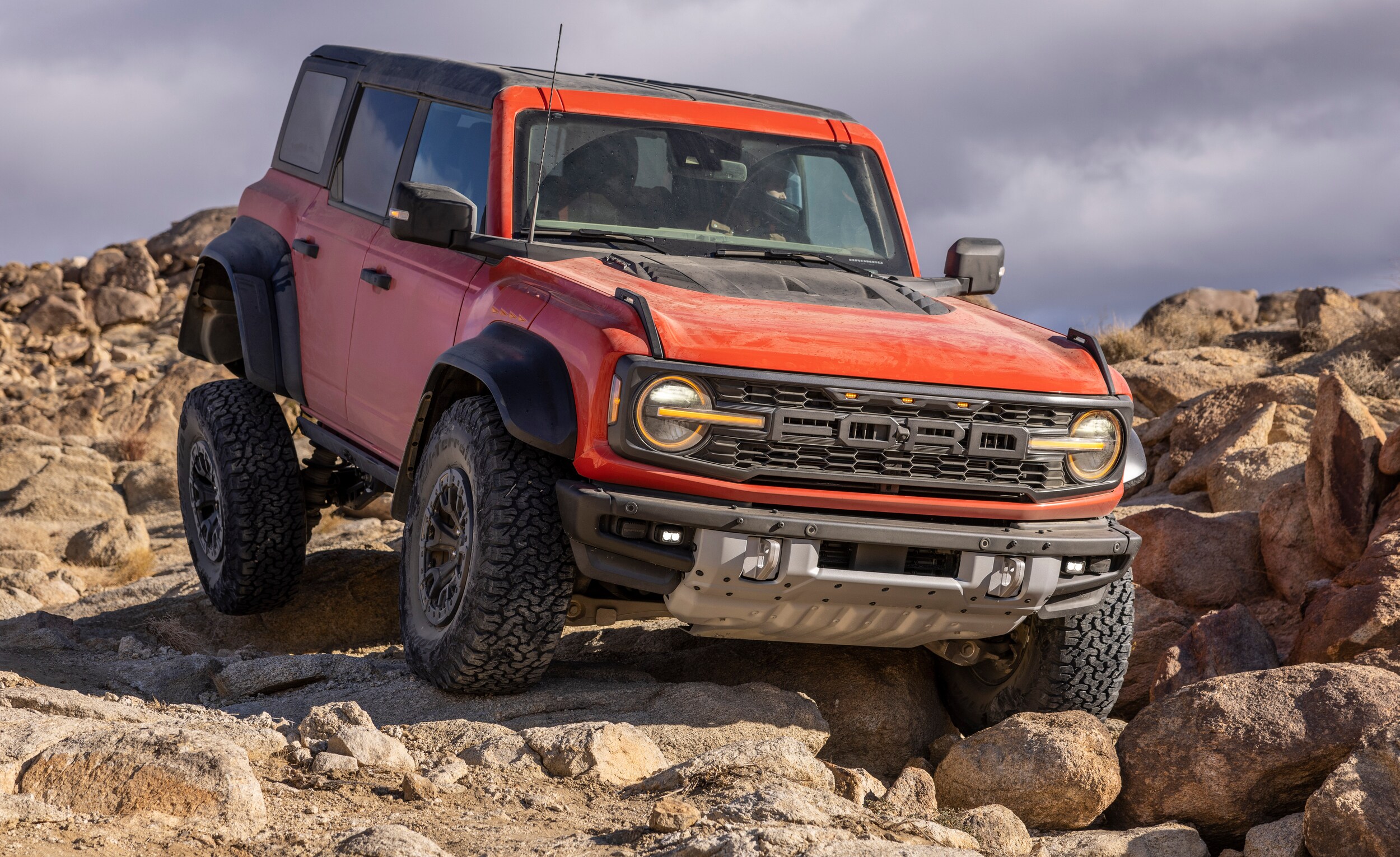 It's been speculated, teased, and hinted at, but now it's finally official: The Bronco Raptor is on its way, and it looks every inch the off-roading beast that its heritage implies. The desert-running, boulder-crawling Bronco Raptor is going to be the most powerful street-legal Bronco ever. Here are just a few of the highlights that you can expect to see.
Ford Performance knew when beginning this project that the Bronco Raptor had to be faster and more capable than the Bronco itself already is, so the Raptor version was designed to deliver. It has a fully boxed, high-strength steel frame with new shock towers to increase wheel travel and off-road durability. On the Bronco Raptor you'll also find heavy-duty bash and skid plates that give continuous driveline coverage from the front bumper to the back of the engine, transmission and transfer case.
The front and rear axles have also been upgraded so that the Bronco Raptor's track width is 8.6 inches wider than a base Bronco, making the Raptor version even more sure-footed. The Bronco Raptor also was designed to have greater wheel torque and a minimum ground clearance of 13.1 inches, 4.8 inches more than a base Bronco. The vehicle includes an advanced 4x4 system with three modes and a higher-capacity clutch designed to withstand the demands of the desert.
The Ford powertrain team developed a twin-turbo 3.0-liter EcoBoost® engine with Raptor-level tuning for the Bronco Raptor, as well as intercooling and air-induction systems designed to withstand the desert heat. With a target of more than 400 horsepower, the Bronco Raptor will be the most powerful street-legal Bronco ever.
Ford's G.O.A.T. Modes™ (Goes Over Any Type of Terrain) Terrain Management System™ has also been upgraded for the Bronco Raptor. This new system offers seven driver-selectable modes, including Baja Mode to maximize performance over high-speed desert runs, and Tow/Haul mode, which enables a tow rating of 4,500 pounds, 1,000-pounds more than the base model. Also included are Trail Control, Trail Turn Assist and Trail One-Pedal Driving.
This is only a small snapshot of all the incredible features and desert-tuned performance that the Bronco Raptor will be offering. "Raptor is the apex of our off-road lineup and is now a full lineup with race proven content and design that you can't get from anyone else," said Jim Farley, chief executive officer of Ford Motor Company. "Only Ford could create a Bronco Raptor."
Customers can begin placing their orders for the Bronco Raptor in March, and vehicles will begin to arrive this summer, just in time to tackle some off-road adventures.